Sarah Fitton is a dressage rider and coach based in Derbyshire. Sarah has been riding since the age of three and focussing on dressage since the age of eight. 
Since her dressage career began, Sarah has competed in numerous Regional, National and International Championships. Sarah has also gained places on the Sport Sheffield Elite Sports Performance Scheme and on the British Equestrian Federations England Excel Talent Programme which support young athletes showing future Olympic potential. In 2021/2022 Sarah also gained a place on the British Equestrian Federations Young Professionals Programme. 
Over the years, Sarah has worked for numerous International and Olympic Grand Prix riders such as Jeroen Hulsman in Holland, Gerti Kussler in South Africa and Emma Hindle in Great Britain. Working for such a variety of top riders has given Sarah a well-rounded education and knowledge base that she is now able to utilise when teaching others.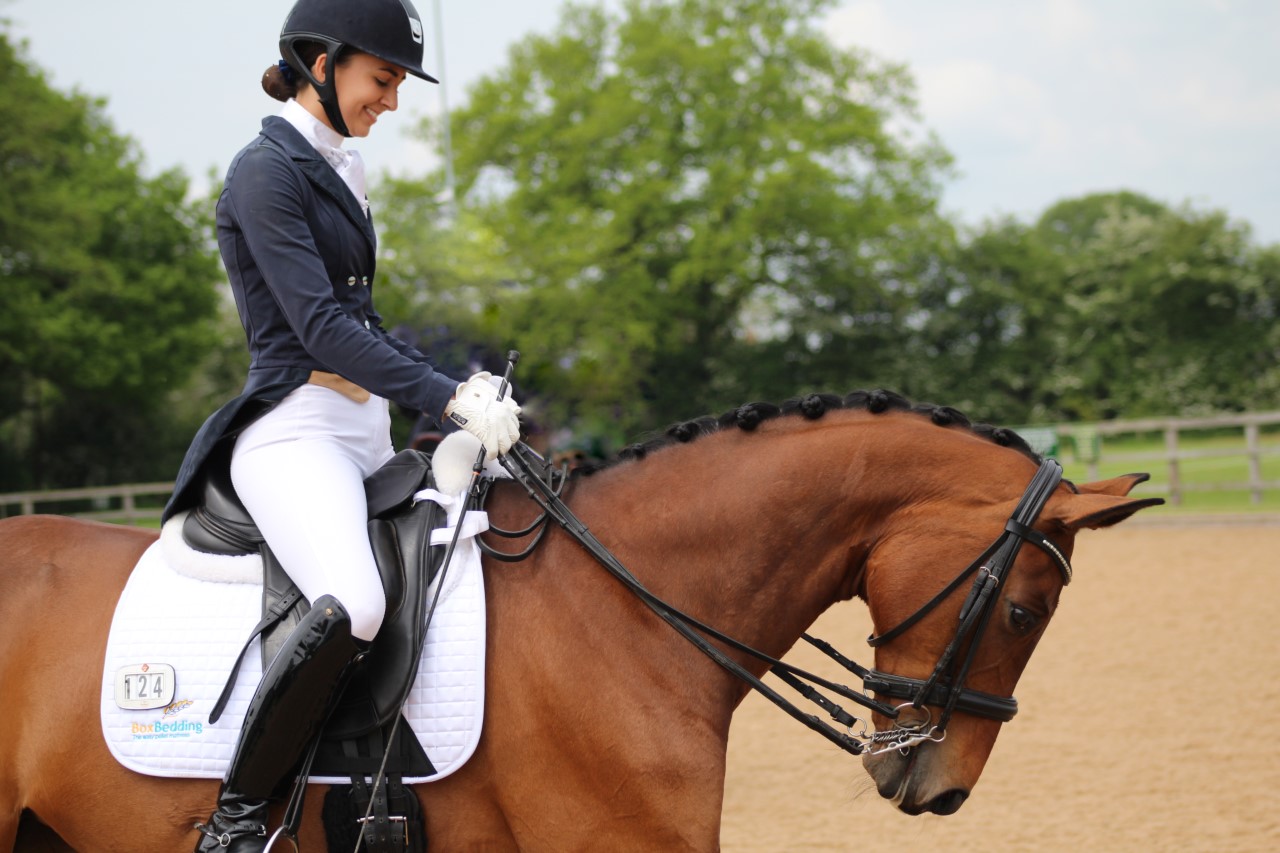 Sarah currently owns three horses, Florenciana 4 (Tia) who is a 14 year old Hanoverian, currently competing at Intermediate 2 Level, Isabel Star FH (Belle) who is a 9 year old Dutch Warmblood currently competing at Advanced Medium Level and Newton Reverie who is a 3 year old British Bred Warmblood currently being backed by Sarah. Sarah has trained her horses up through the levels herself since buying them all as youngsters. Sarah has high hopes for all three horses over the next year with the main aim being to compete Tia internationally for Great Britain at Senior Small Tour level.
Sarah is now a freelance dressage coach and professional rider and loves sharing her passion for dressage with others. Sarah travels across the UK to teach clinics and will travel across Derbyshire, Cheshire, Staffordshire and Yorkshire to teach singular clients daily. Sarah also regularly trains and competes a number of horses for owners, and always takes a sympathetic approach to aiding their development. Sarah teaches people and horses of all ages and abilities and enjoys helping people achieve their goals. Sarah is also currently training to become a British Dressage accredited judge and will soon be hosting test riding clinics across the UK. 
"Sarah started coaching me in November 2020 and I've never looked back, it was the best decision I have made!
My mare was diagnosed with kissing spines in 2017 and as it was inoperable I had just about given up. In 2020 I made the decision to contact Sarah and asked if she would be willing to help me rehab Dancer back into work. Dancer went from strength to strength. Sarah has so many amazing ways of teaching, we were never rushed, each lesson always ends on a high and my dream of doing dressage has come true as I recently succeeded in my first novice class.
Sarah has held my hand every step of the way and I will be forever thankful, she's had a huge impact on mine and Dancer's life.
When I'm working full time and struggle to exercise Dancer, Sarah kindly school's her for me and will specifically ask what areas I'd like her to work on, She always gives feedback too which is great knowing she's in excellent hands!"
"I have been having lessons with Sarah for six months now and my horse and I have come on leaps and bounds. Sarah really explains clearly what she wants from us and then encourages us to exceed. After a 2 year gap I'm now out competing again and loving it, all thanks to Sarah!"
"Sarah has been training my young horses for me recently and I am so impressed with the difference she has made! Sarah adapts the way she trains each horse to their individual needs and always takes her time to ensure they have fully understood something before moving on to the next. I wouldn't trust anybody else now!"